Product Description
The full range of products includes a new modified OKI color laser printer, control software system, imported film from Germany, and video training course.
Film is divided into two kinds, one kind is light color clothes
One kind is dark color
in addition the device not only can make T-shirt heat transfer, but also can make metal, wood, plastic, leather, ceramic, glass and water transfer printing, multi-use!
Comparison of different types of heat transfer printing machines ,the difference between the pros and cons:
①Korean stamping: photo machine +pu printing film + ink cost + automatic edge cutting plotter + tedious waste removal labor and time cost + various machine maintenance cost. Although machine consumables are cheap, the hidden costs of labor, time and efficiency increase by several times much higher than the price of materials themselves. Moreover the pattern is complex, the hollow out degree high graph cannot produce. Will cause customer loss!
②Direct injection technology: expensive machine + white ink expensive and plug, and cumbersome process. Need prefinishing spray solution predrying spray pattern pattern drying. Although the pattern can be made infinitely hollow, the consumables of the machine are not cheap, and the process and time cost are high. The key is that the pattern cannot be finished and put aside like hot stamping, but can only be made into stock, and the cost of stock breaking is large.
③Our laser technology :
three minutes for one garment.
Any pictures,
unlimited hollow,
high utilization rate of paper,
the machine does not need maintenance.
Although the price of paper is relatively high at present, the invisible cost of labor, time, efficiency and machine maintenance is almost zero.
What is important is that such unlimited hollow Korean stamping cannot be achieved. It has both the advantages of direct injection machine and Korean stamping, and can also be made into spot pattern for standby, so that the inventory cost can be minimized.
Over view
Quick Details
After-sales Service Provided:No Overseas Services
Printing Mode:LED Digital Color Electrostatic Imaging Printing Technology
Printing resolution:600x600 dpi,1200x600 dpi,2400dpi (image enhancement)
Printing speed: single side: color: 34 ppm Printing Language:PostScript Simulation
Connecting Interfaces:IEEE 1284 Bidirectional Parallel Interface, 100BASE-TX/10BASE-T, USB2.0 (High Speed)
Memory (Standard/Maximum):256MB/768MB Power Supply:Single-phase 220-240V AC, current 50 Hz+2%
Size(L*W*H):435x547x389 mm Weight(With Consumables):31 KG
Weight(Without Consumables):26KG Place of Origin: Guangdong,China(Mainland)
Product Name:INCODE Multi-use Color Laser With Heat Transfer Printing
Power Consumption:Usually 600W, peak period about 1300W, standby about 100W (average), power-saving mode about 15W or less, sleep mode about 1.2W.
Noise level:Operation: 54dB, standby mode: 37dB, power saving mode: background level

Packaging&Delivery
Selling Units:Single item
Packaging Details:Standard exporting carton package
Packaging Weight:70 Kg
Single package Size:900x1100x800 mm
Delivery Time:within 3-7 day after receiving payment

Detailed Images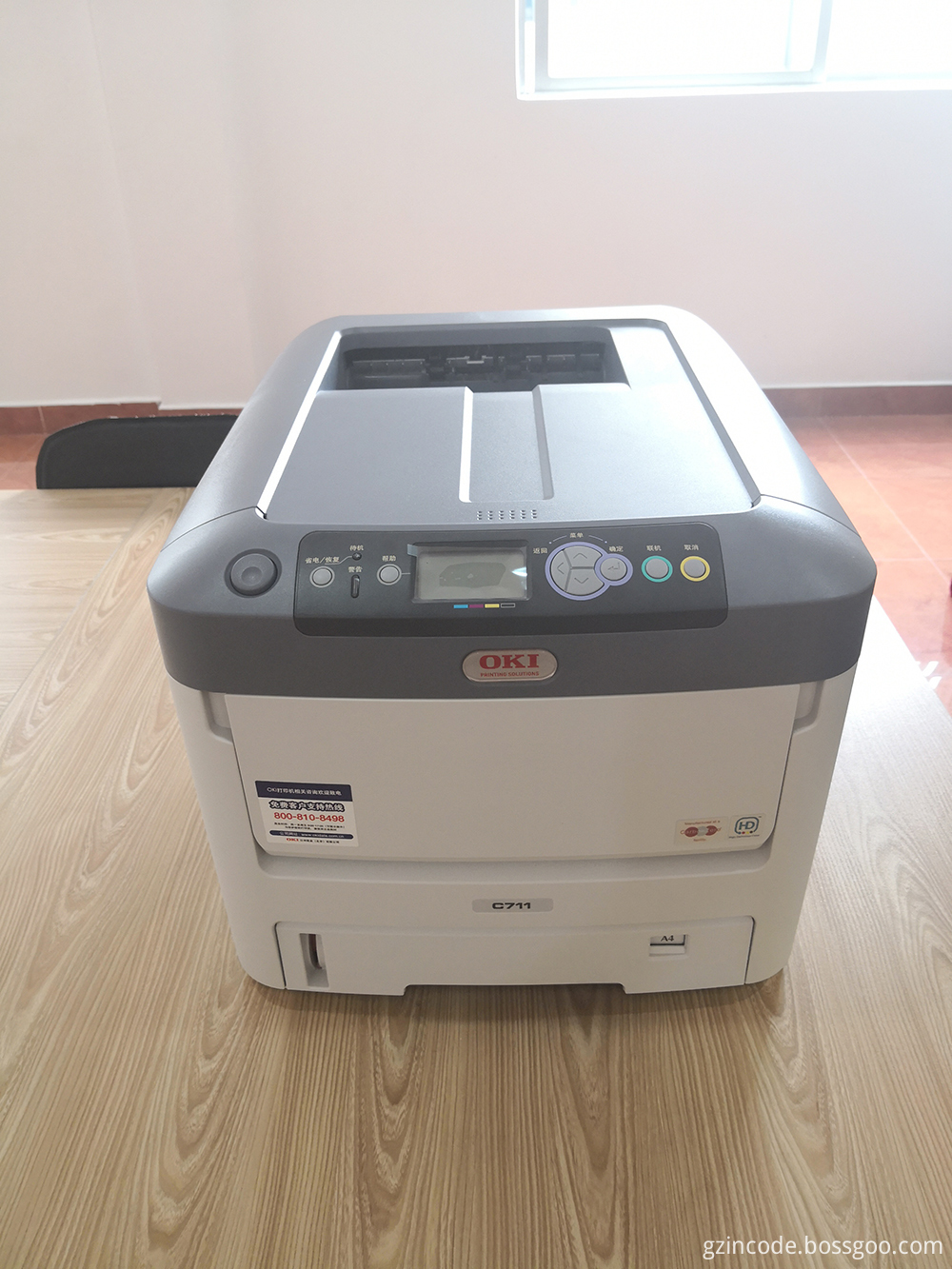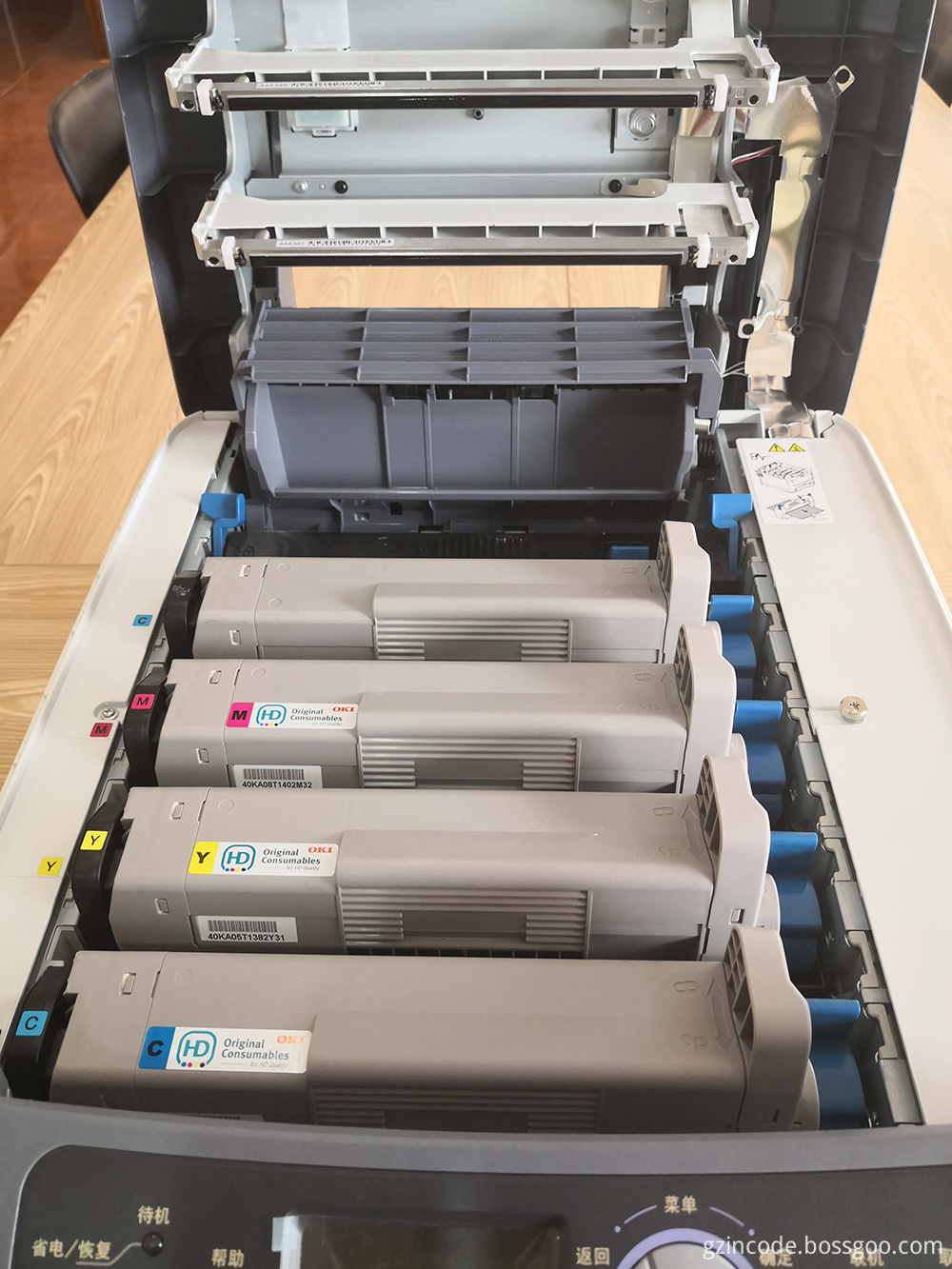 Paper Processing Capacity
Paper Processing Capacity of Standard Cartons:Dimension:Legal13/13.5/14,Letter,Executive,A4,A5,B5,A6,16K; Capacity:530 pages(80gsm); Weight range:64-220gsm
Paper Handling Capacity of Multi-function Paper Feeder:Dimension:Legal13/13.5/14,Letter,Executive,A4,A5,B5,A6,C5,DL,Com-9,Com-10,Monarch,Index Card(3*5inch),Photo Size(4*6inch/5*7inch);Custom dimensions: Width63.8-215.9(mm)127-1320.8(mm) Capacity:100 pages(80gsm) Weight range:64-250gsm
Dual-sided Printing Paper Processing Ability:Dimension:Legal13/13.5/14,Letter,Executive,A4,B5,A5,16K Weight range:64-220gsm
Paper Output: Facede down: up to 350 sheets; Facede up: up to 100 sheets

Consumables
Ink Cartridge Capacity (Random):CMY:4,000 pages W:2,300 pages(5% coverage rate)
Toner Cartridge Capacity (Standard):CMY:11,500 pages W:6,000 pages(5% coverage rate)
Photosensitive Drum Life(A4 pages, 3 pages/assignments):20,000 pages(CMY);6,000 pages(W)
Fuser Life(A4 pages, 3 pages/assignments):60,000 pages
Conveyor Belt Life(A4 pages, 3 pages/assignments):60,000 pages

Environment Requirement
Working Environment: Temperature: 10℃ - 32 ℃ (recommended 17℃ - 27 ℃) Humidity: 20% - 80% RH (recommended 50% - 70% RH)
Power Supply:Single-phase 220-240V AC, current 50 Hz+2%
Power Consumption:Usually 600W, peak period about 1300W, standby about 100W (average), power-saving mode about 15W or less, sleep mode about 1.2W.
Noise level:Operation: 54dB, standby mode: 37dB, power saving mode: background level


Transfer Temperature Description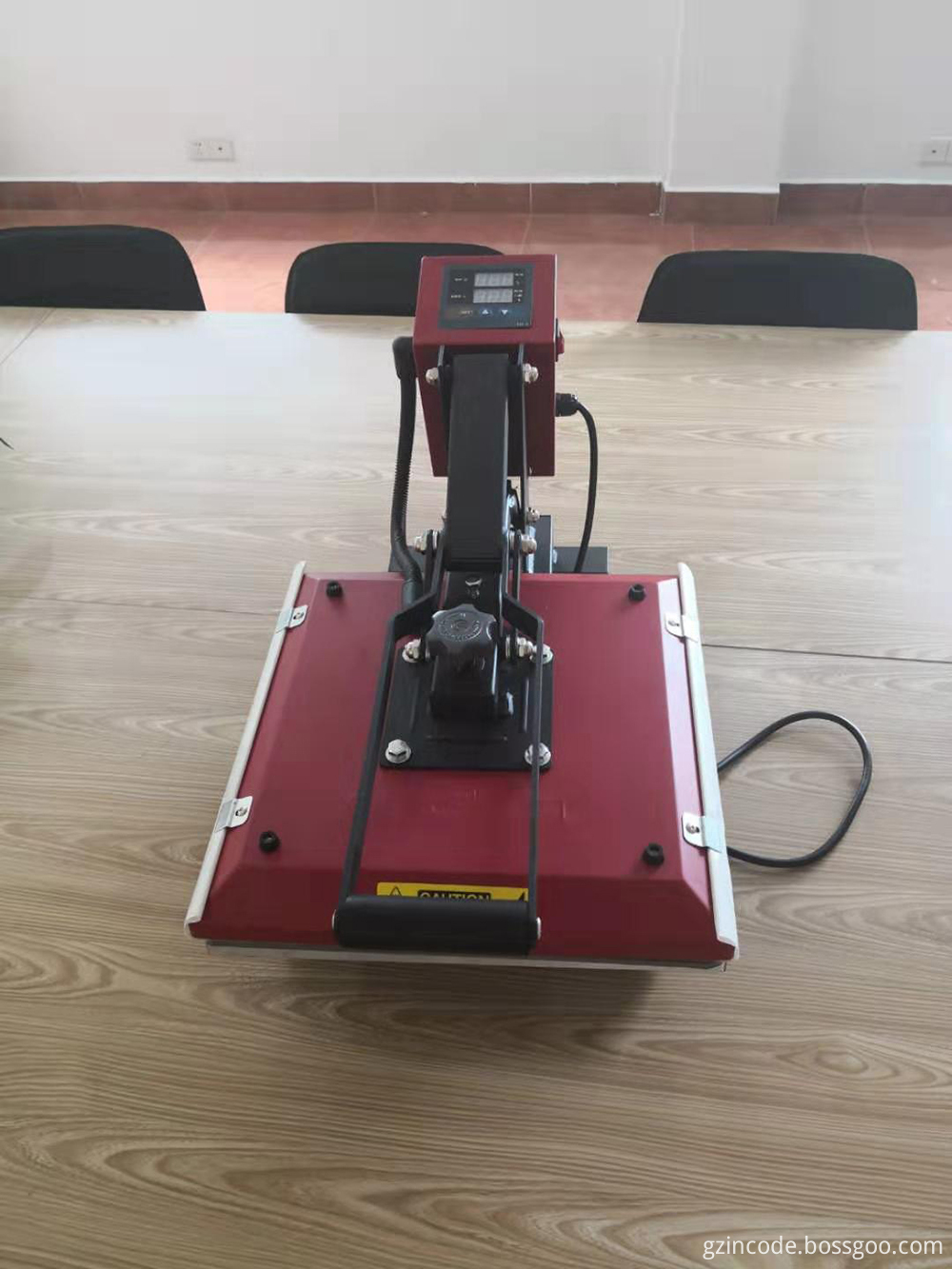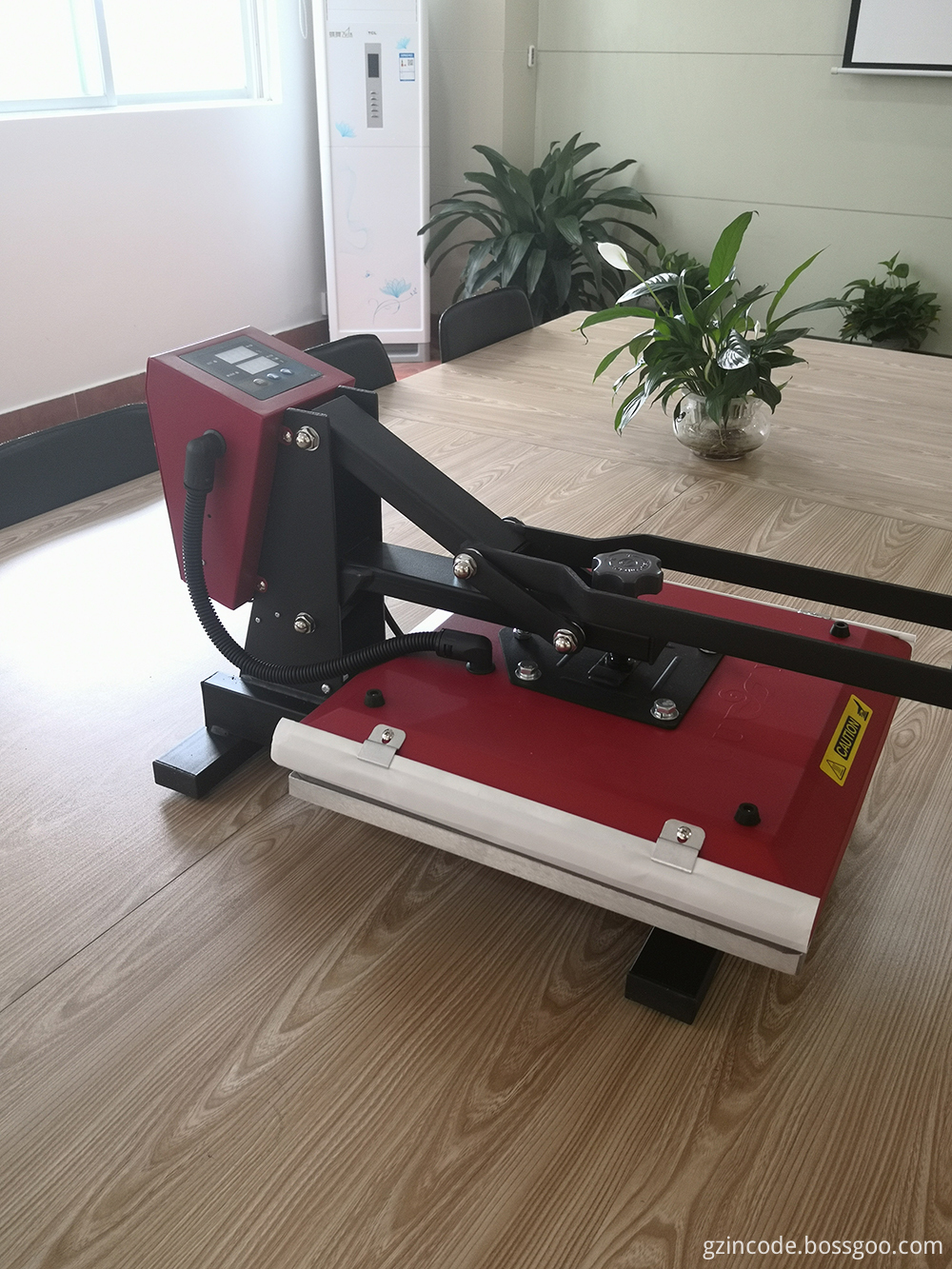 Light-colored Transfer Paper:Temperature:180-185 degrees; Time:20-25 seconds(Mirror image printing,this paper can be used for light-colored cotton clothes)
Dark Transfer Paper:Temperature:160-165 degrees; Time:12-15 seconds(image printed on the front,this paper can be used in dark cotton clothes)
Sublimation Paper:Temperature:190-220 degrees; Time:15-50 seconds(the mirror image printing needs,this paper can be used to free cotton clothes,such as Modal,milk,silk,fast drying,chemical fiber,etc,can also be used pillow,mouse pads,puzzles,mugs etc.).
Note:The higher the temperature, the shorter the time.(As set 190 degrees,time to be 50 seconds;set to 220 degrees,the time is 15 seconds.)
Heat transfer Vinyl and film hot map:Temperature:130-160 degrees Time:8-12 seconds
Company introduction
Guangzhou INCODE marking technology co., ltd. its a high-tech enterprise ,founded in 2008, we provide the most professional industrial inkjet service and also the various type of marking equipment, For example the Continuous Inkjet Printer,Tij Inkjet Printer,Laser Marking Machine,UV printer,Egg printer,Conveyor Belt,Paging machine,Inkjet Spare Parts ,Smoke Purify Machine etc.
We have more than ten years of specializing in printing technology research experts, have many years of industry marking machine distribution and after-sales service and maintenance experience, has a technical mastery and responsive, service first-class professional team, can provide customers with various types of machine in all aspects of professional technical services and high quality professional consumables, to provide customers with mature and reliable industrial printing solutions.
We are committed to "becoming the most professional industrial inkjet code service provider" based on service and quality.